Hepatitis Can't Wait Contest for DMC Students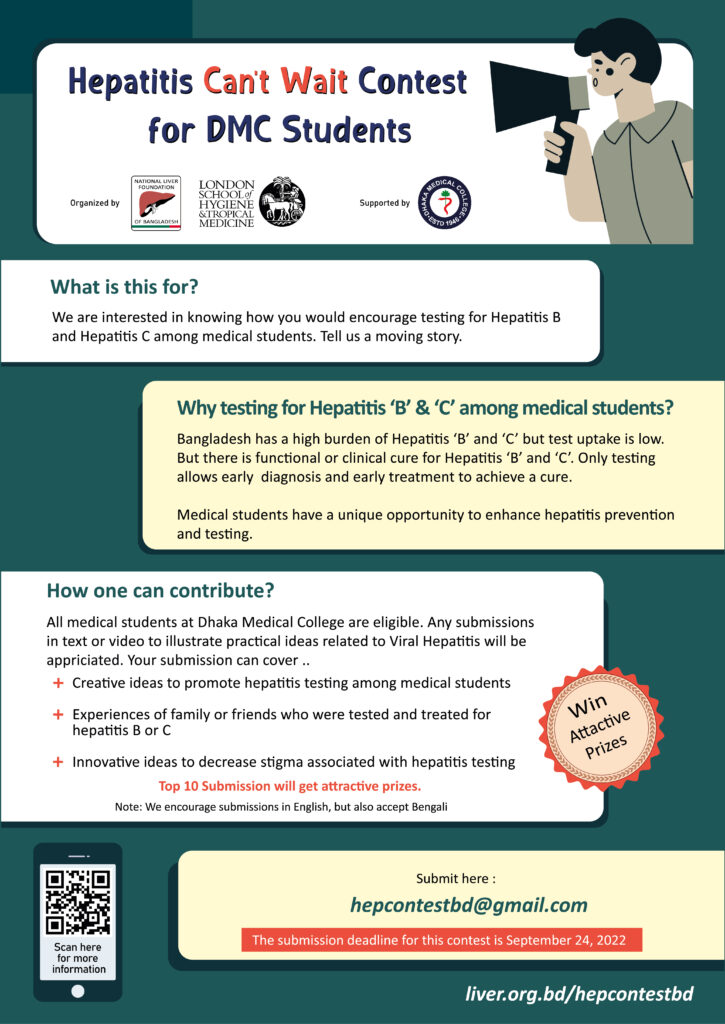 Guideline for contributions
​ Purpose
The main aim of this open call is to solicit ideas from medical students ((beyond stories about hepatitis in their lives) to spur increase in hepatitis B and C testing among medical students and other young health professionals in Bangladesh.
Eligibility: All medical students at Dhaka Medical College are eligible to submit to this open call.
​Language for the entries: English
​Contribution Format Options
Creative ideas to promote hepatitis testing among medical students
Experiences of family or friends who were tested and treated for hepatitis B or C
Innovative ideas to decrease stigma associated with hepatitis testing
Text (less than 500 words).
Judging Criteria
Submissions will be judged on a 1-10 scale according to the following four criteria:
1. Clear description
2. Capacity for impact i.e., potential for enhancing hepatitis B and C testing among medical students in Bangladesh
3. Innovation
4. Potential for implementation and sustainability
After screening for eligibility, all the eligible entries will be pooled together for judging, and additional judges will be needed for these further reviews.
Timeline
Launch: 12 September 2022
Submission till 24 September 2022
Judging: 25-26 September 2022
​Finalist Notifications: 28September 202
Prizes
The open call has attractive prizes. These will involve prizes for first, second and third place and the other 7 finalists. Total 10 submission will get prizes.
Video or Image Submit procedure
Please send these the Participants' Details with the submission:
First name      
Last name    
Student ID Number   
Age
Sex
Phone
Email      
Email to [email protected] if you have any questions. Thank you for joining the project!
Open access resources for designing videos
Video Production Tips (non-commercial from PennState):
https://mediacommons.psu.edu/2017/02/01/video-production-tips/
Suggestions for co-creating messages:
https://journals.plos.org/plosmedicine/article?id=10.1371/journal.pmed.1003246
Partner Organizations
​This contest jointly organized by The London School of Hygiene and Tropical Medicine and National Liver Foundation of Bangladesh. Campaign partner Bangladesh Medical Students Society.
FAQs
What is an open call?
An open call is a form of crowdsourcing effort intended to collect responses from a diverse audience in a unique approach to gaining a larger understanding from a collective crowd. The response collection is guided by a steering committee and the responses are assessed by a judging committee which collectively selects particular responses to share with a wider community. Open calls are innovative methods for creating bottom-up solutions to societal and health problems.
Who is organizing this project?
This project is a partnership between the London School of Hygiene and Tropical Medicine, and the National Liver Foundation of Bangladesh.
Why use a challenge contest?
Open contests have been widely used by governments, private foundations, and other organizations to improve mentorship initiatives and programs. Our experiences have demonstrated that challenge contests are a useful tool for soliciting innovative ideas for solving different problems.
Any example submissions or format requirement?
To avoid limiting innovation and similarity of submissions, we usually do not provide examples. But a good tip is that think of how you can tell a good story to solve the problem. Then you can do it in your own way.
What are the judging criteria for the open call?
For this open call, responses will be selected based on the influential nature of the submission. There are four criteria, as elaborated on above, by which each submission will be assessed: clear description, capacity for impact, relevance, feasibility, and elaboration.
How many stories can I submit?
There is no limit to number of submissions, and you are welcome to submit as many as you want. But if you want to submit multiple submissions, please submit separately.
Why is my voice important and how will my participation help to change things?
In many countries, people with hepatitis are excluded, left out, and silenced. The process of speaking out about hepatitis can help the public, including leaders, to better understand the personal impact of the disease on individuals, families, communities, and society.
How is liver cancer related to hepatitis?
Liver cancer happens when liver cells develop changes (mutations) in their DNA. A cell's DNA is the material that provides instructions for every chemical process in your body. DNA mutations cause changes in these instructions. One result is that cells may begin to grow out of control and eventually form a tumour — a mass of cancerous cells. There may be many causes for liver cancer and chronic infection with the HBV, HDV or HCV are known to increase your risk of liver cancer.
Do I need to be living with hepatitis?
No, anyone is eligible to join the challenge.
What forms of hepatitis are the focus?
This open call is specifically focused on hepatitis B and hepatitis C. While other forms are certainly important, they are not relevant to this specific open call.
Will you be collecting information about participants?
Yes, along with the information about the submission itself, our survey collects some basic demographic information, including sex, age, nationality, and your contacts for the purpose of contacting the participant if they are selected to receive a prize.
What personal identifying information do we need to provide?
None, unless you are hoping to receive a prize for your submission, wherein your name and some contact information is necessary. However, identifiable information will not be shared in any occasions without your consent. The privacy of our participants is of paramount importance.
How do I create an infographic?
There are many open access resources available for creating infographics and related visual materials. More details can be found here.
Questions?
If you have any question please mail at [email protected]
---